At the April 2020 virtual State Speech Trek Convention, it was announced that OUR  Speech Trek winner, Carter Hill, was awarded 3rd place in the State and $500! 
The subject for next year's Speech Trek contest involves Social Media and its effect on gender equality. There will be a ZOOM meeting in September to go over the Speech Trek 101 program and the Club Handbook. We also plan to work on a strategy for recruiting contestants for the upcoming year.
If anyone would like to help, please contact Sharon Warner.
Sharon Warner
sharonlovestravels@hotmail.com
February 15, 2020 Speech Trek Competition
AAUW Foothills of El Dorado sponsored its first local Speech Trek speaking contest on February 15th. This contest is open to all California high school students.
The event was well-attended with about 20 members in attendance. Four students from the Ponderosa High School Speech and Debate Team presented their 5-minute speeches on this topic: Are men and women truly equal today, or are the Suffragettes of 1920 still suffering in 2020?
Everyone enjoyed listening to these articulate students. The pane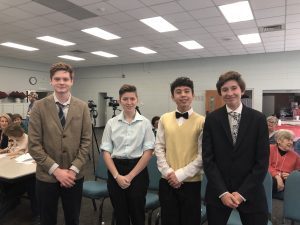 l of three judges decided the following:
3rd place, $100: Makayla Mayhew
2nd place, $300: Ellie Barbuska
1st place, $500: Carter Hill
Carter's winning speech has been submitted to the State Competition. The top three speeches in the state will go to the finals at the April AAUW convention in Millbrae.
——————————————————————
Oct 5, 2019 Tech Trek Tea Luncheon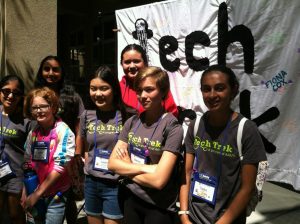 Our seventh annual Tech Trek Tea Luncheon on October 5th was a resounding success and was well attended by parents, teachers and AAUW members.  It was wonderful meeting the scholarship recipients and hearing them express their appreciation for being provided such a wonderful opportunity to engage in hands-on science and meet other like-minded young ladies. Mr. Joe Bania, our benefactor who generously donated the funds that paid for six of the girls who attended Tech Trek this year, gave a short and inspiring pep talk.  A total of eleven local girls attended Tech Trek this year, with our branch sponsoring three girls and two Soroptimist branches sponsoring two. The girls did a fabulous job sharing their wonderful experiences at the UC Davis and CSU Fresno Tech Trek Camps this summer.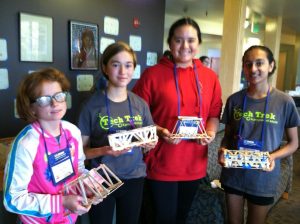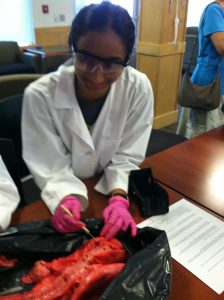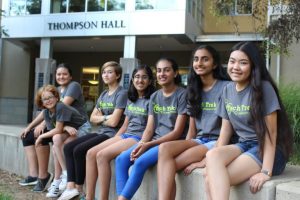 Mahee Haswani (Marina Village), Tairka Kahlon (Rolling Hills),  Whilder Kijsriopas (Camerado), Audrey Mayo (Miller's Hill), Garima Penumechchu (Rolling Hills),  WrennaPotter (Camino Poly Tech), and Luaryn Sumimoto (California Montessori Project) attended the Tech Trek camp at UC Davis.
Skylar Allen (Golden Sierra), Brooklind Stevens (Gold Trail), Trinity Findelton (Camerado), and Morgan Halverson (California Montessori Project) attended the Tech Trek Camp at CSU Fresno.
We have received delightful thank you notes from all the girls who attended Tech Trek this past summer.  Here is a sampling:
"This camp opened my eyes to both the brightness of my future and the challenges that lie ahead. Thank you so much for this opportunity that taught me so much, not only about science but also about myself." – Lauryn Sumimoto

"I cannot even begin to describe how grateful I am to you for allowing me to attend Tech Trek. It was a wonderful experience that …strengthened and solidified my hopes of a career in STEM." – Audrey Mayo

"The unique activities from learning about forensics, constructing solar cars, and meeting successful women in STEM, just to name a few, have really inspired and motivated me to explore STEM even more." – Mahee Kaswani 
---